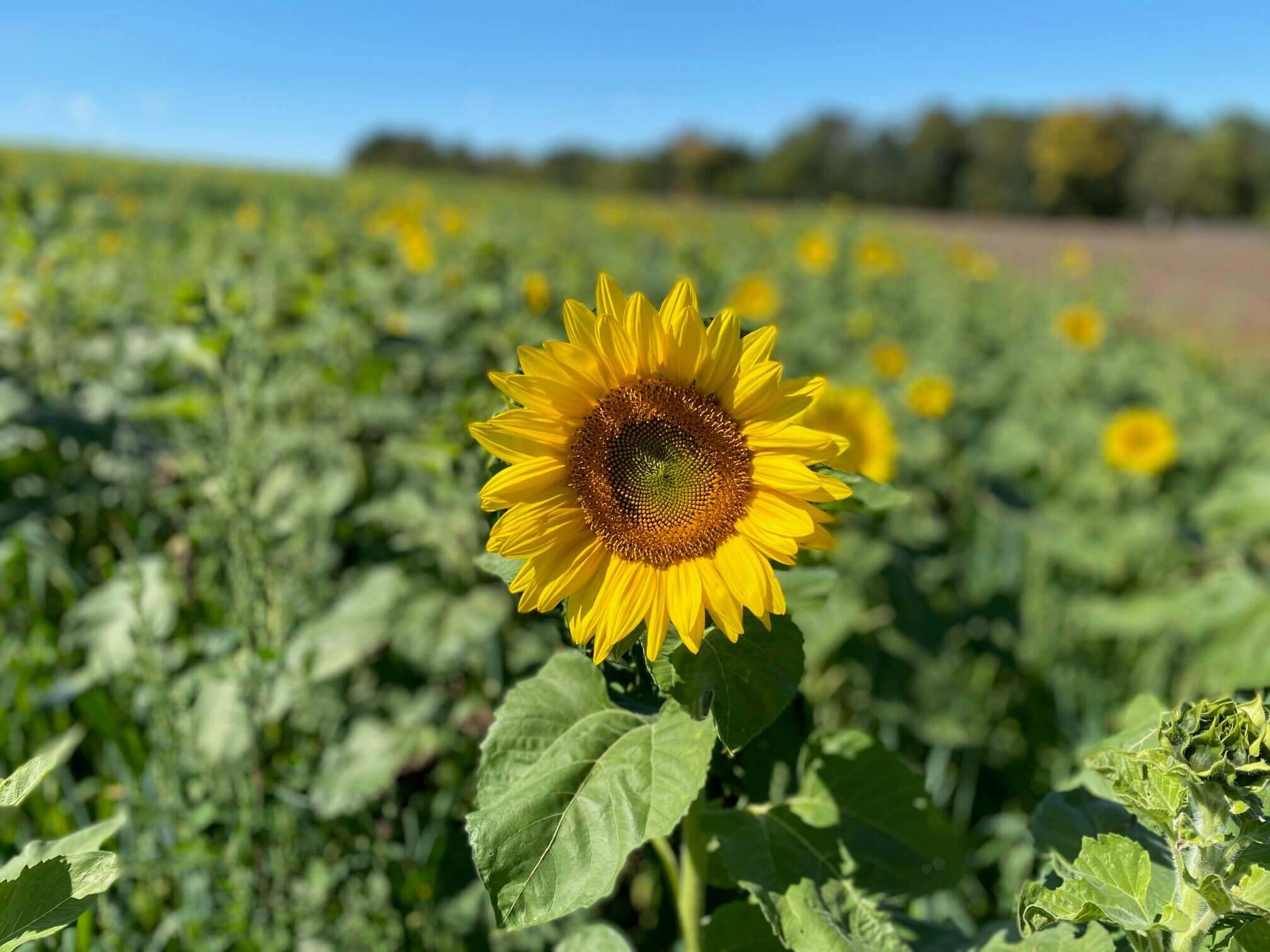 September 23 & 24 from 10 am - 6 pm
Pick your own free sunflowers!
about the festival
Pick free sunflowers on the farm
September 23 & 24 from 10 am - 6 pm
RAIN OR SHINE
Join us on our 200-acre farm in Carlisle, PA for our free annual two-day Sunflower Festival during our fall sunflower season! Pick as many sunflowers as you would like for free and enjoy a day on the farm with food trucks, sales, artisan craft vendors, and more!
Can't make it to the Sunflower Festival? Be sure to visit the farm during Sunflower Season. Learn more by clicking here.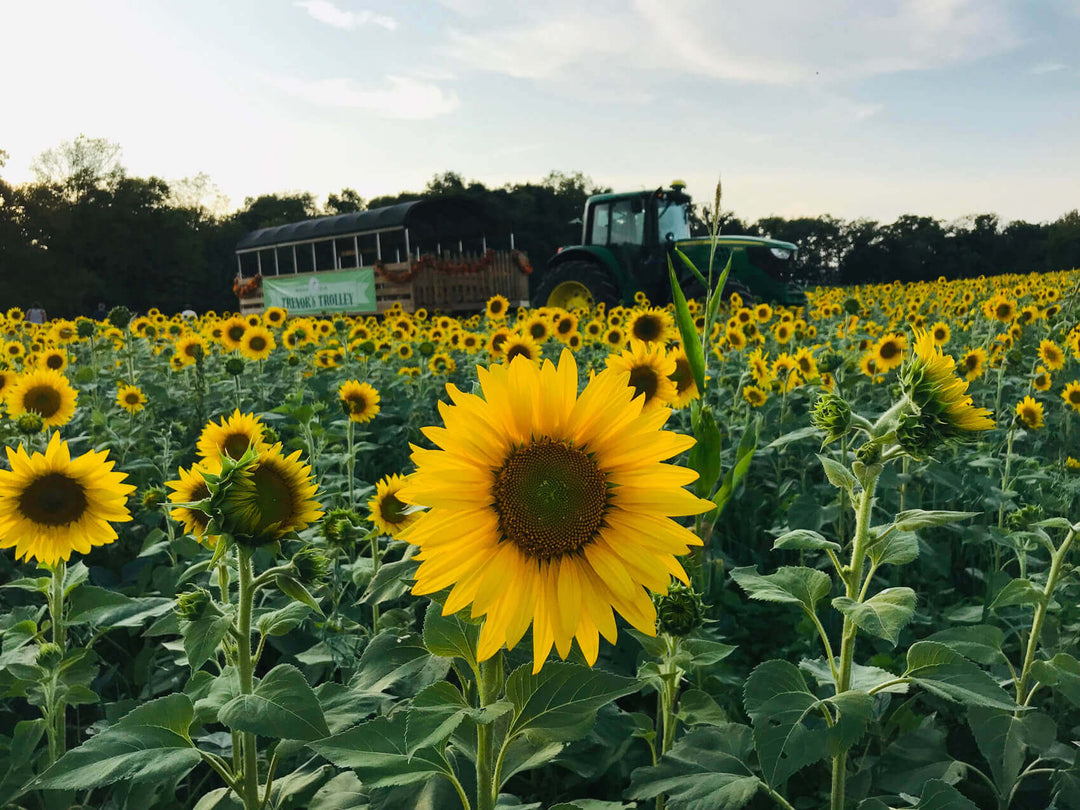 There's So Much to Do!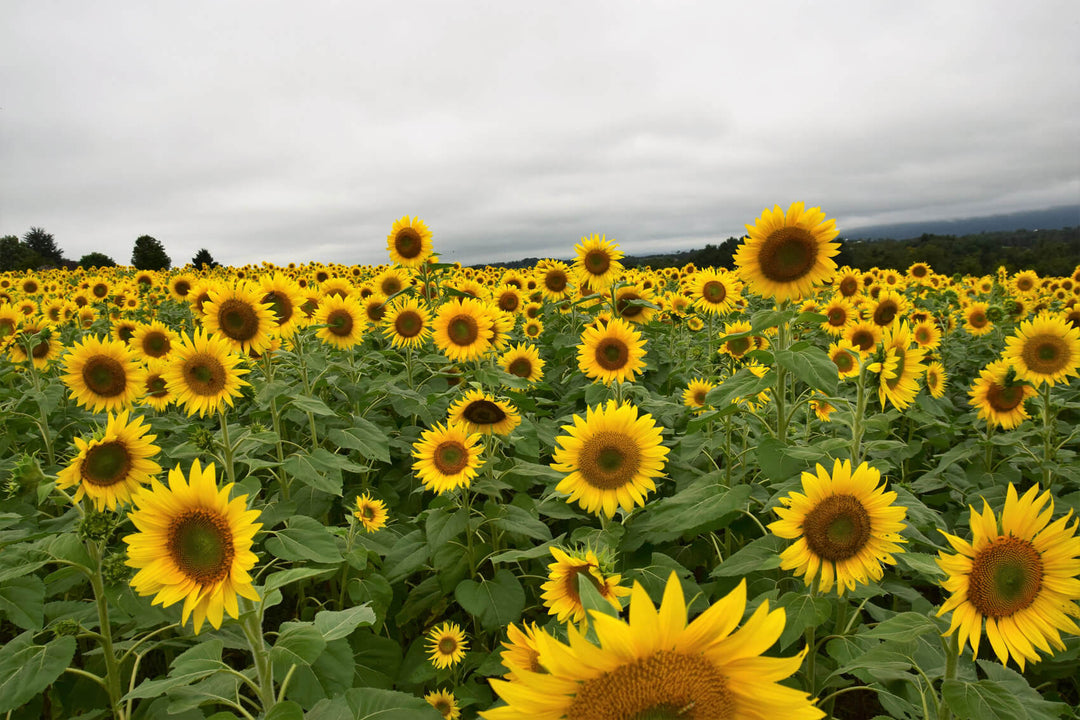 FREE Sunflowers!
Make sure to bring along a vase/bucket and clippers to pick FREE sunflowers! We will have a clipping station and water available and just in case you forget a vase or clippers, we will have them available for purchase in our store and at the information tent.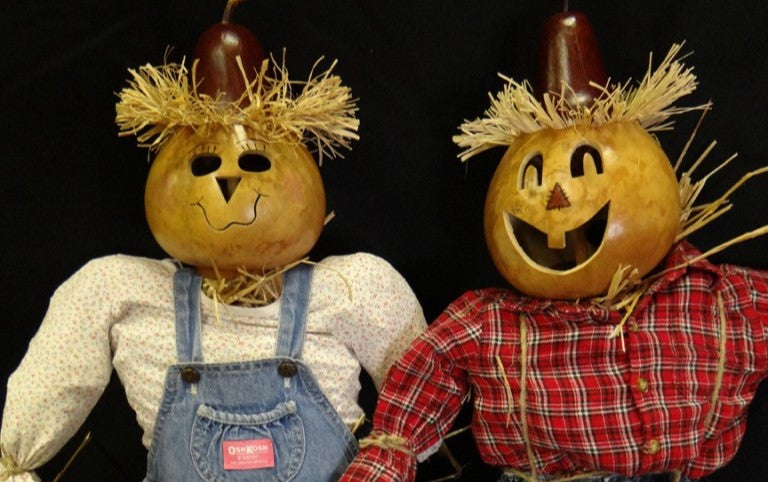 Make your own scarecrow $75.00
Stop by our Make Your Own Scarecrow section to build your very own toddler-sized scarecrow. Choose your overalls and shirt, stuff with straw, and pick out your very own gourd head to complete your scarecrow while supplies last.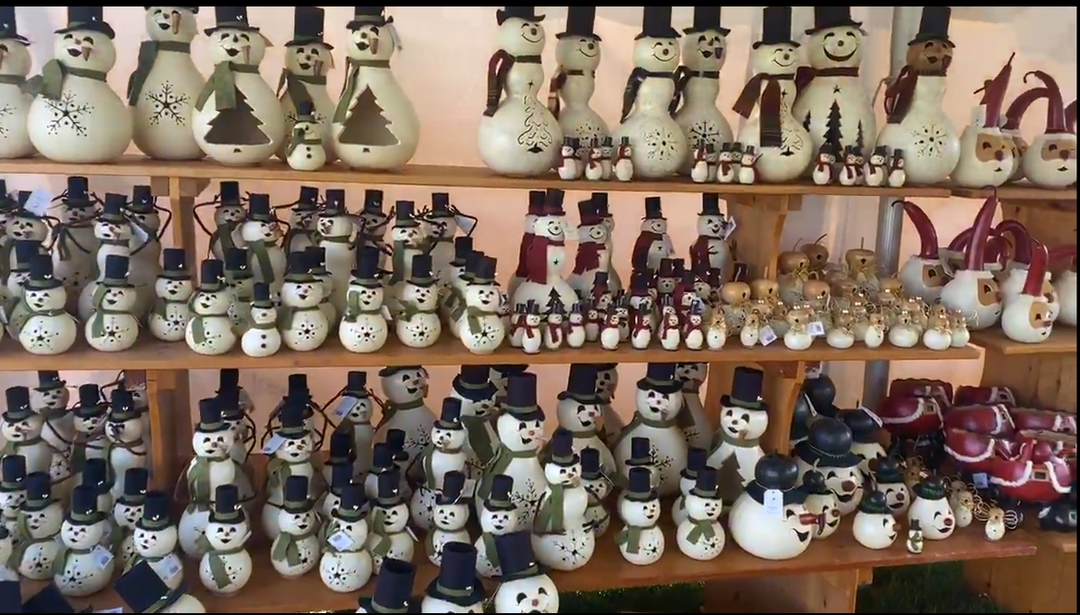 Oops! Sale
Get excellent deals during this awesome annual Oops Sale! This is the perfect time to stock up on discounted hand-crafted gourds that have a minor blemish (or may have just been retired).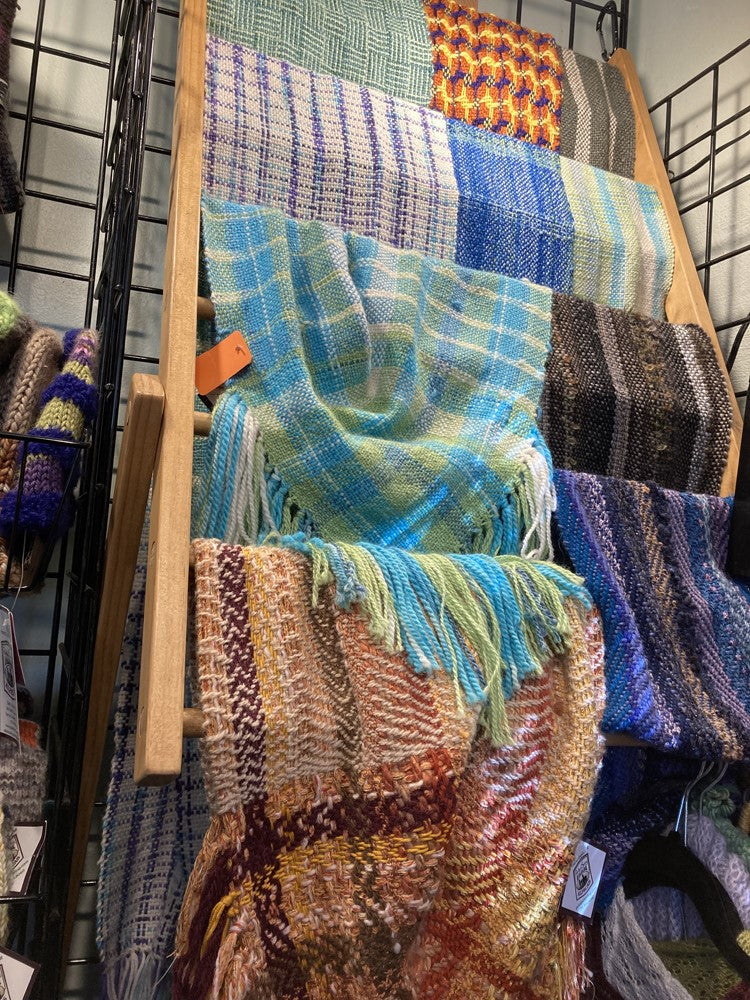 Artisan craft vendors
Stroll through our grassy lawn and shop a variety of Artisan craft vendors! Each booth will be filled with artisan-made goodies for you to enjoy!
Trolley Rides
Take a trolley ride around our 200-acre farm to see beautiful sights of sunflowers in bloom. Our Trolley Rides take approximately 45 minutes and are $5.00. There is not a charge for handheld infants. Be sure to get your tickets before the event as they tend to sell out.
Order Tickets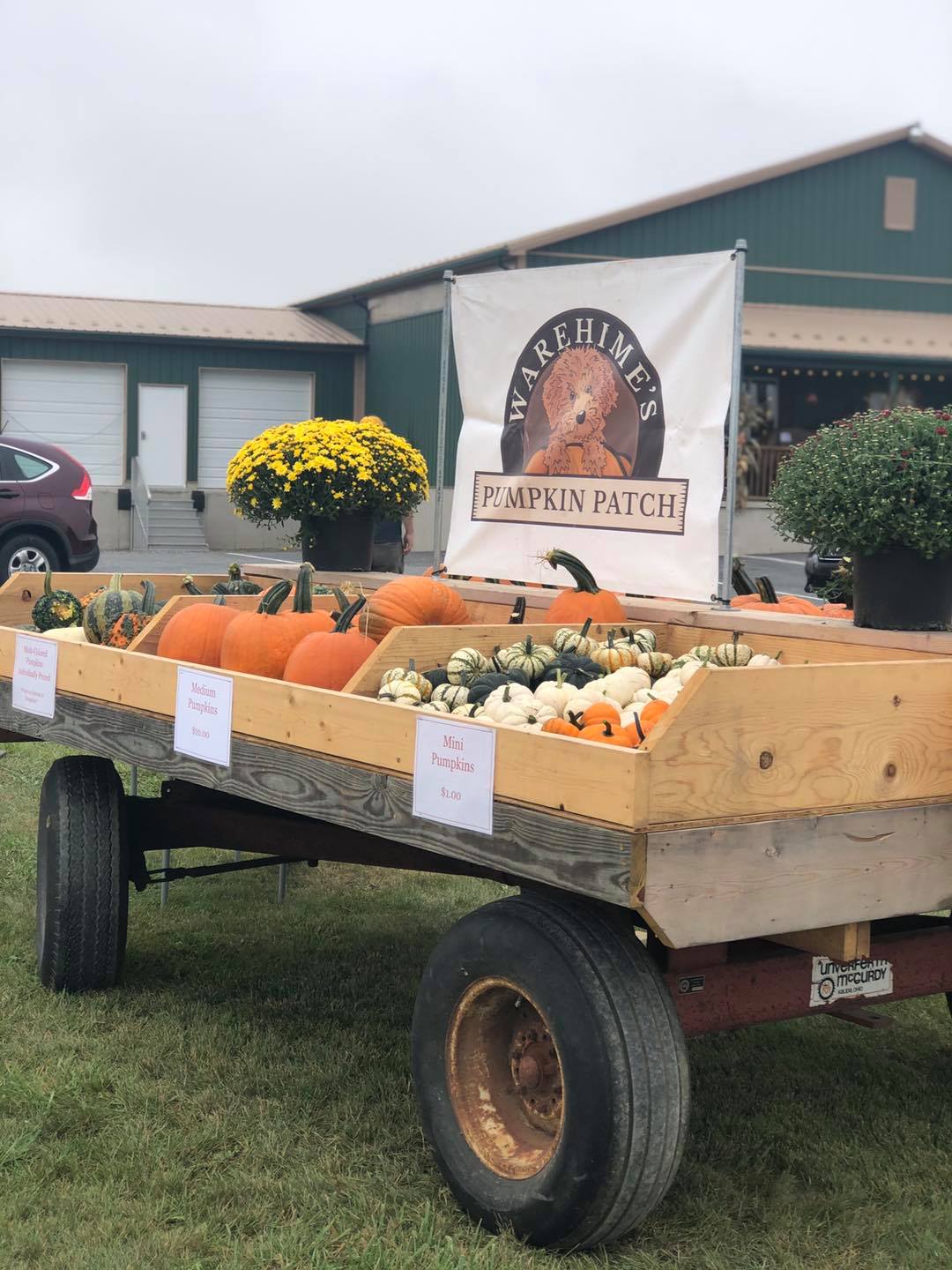 Pumpkin Patch
Right beside the Meadowbrooke Farm, you will find Warehime's Pumpkin Patch who offer a large selection of pumpkins in many shapes and colors. Stop by, grab a wagon, and pick your own! Be sure to enjoy their photo ops as well! Warehime's also hosts designer sunflowers of many colors.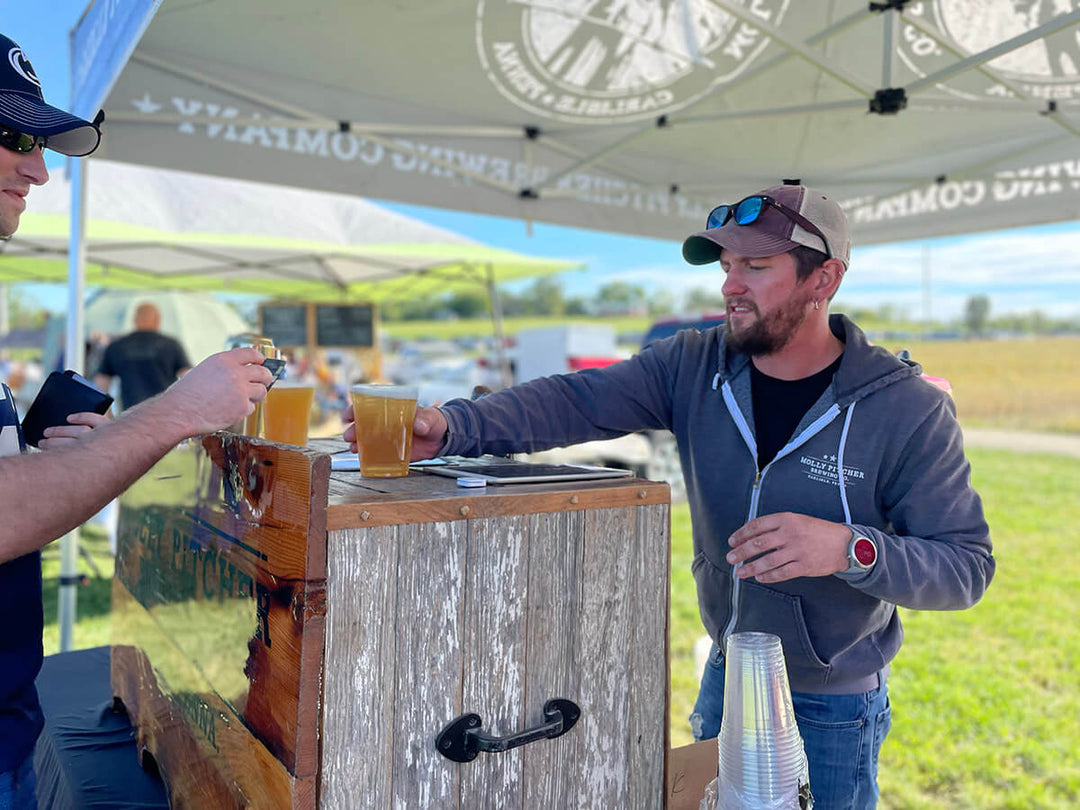 Beer, Wine and Hard Cider
Enjoy a craft beer from Molly Pitcher Brewing Company, a hard cider from Under the Bridge or PA wines from Castlerigg Wine Shop!
Gift Shop
Visit our 7,000 sq ft Gift Shop on the farm filled with gourds for all seasons as well as other artisan crafts, gifts, raw hard shell gourds for crafting, food items and more!
Face Painting
Young and old can enjoy getting their faces painted by Oh Look, Face Painting by Amber on our grassy event lawn.
Live Music
Enjoy live music throughout the day on our grassy event lawn. Local artists of a variety of genres will be sure to entertain throughout each day of the event.
Saturday - 9/23:
11-1 Kirk Wise
1:30-3:30 Brookens & Co.
4-6 Shawn Nelson
Sunday - 9/24:
11-1 Dillweed
1:30-3:30 Cumberland Honey
4-6 Sherbi Trio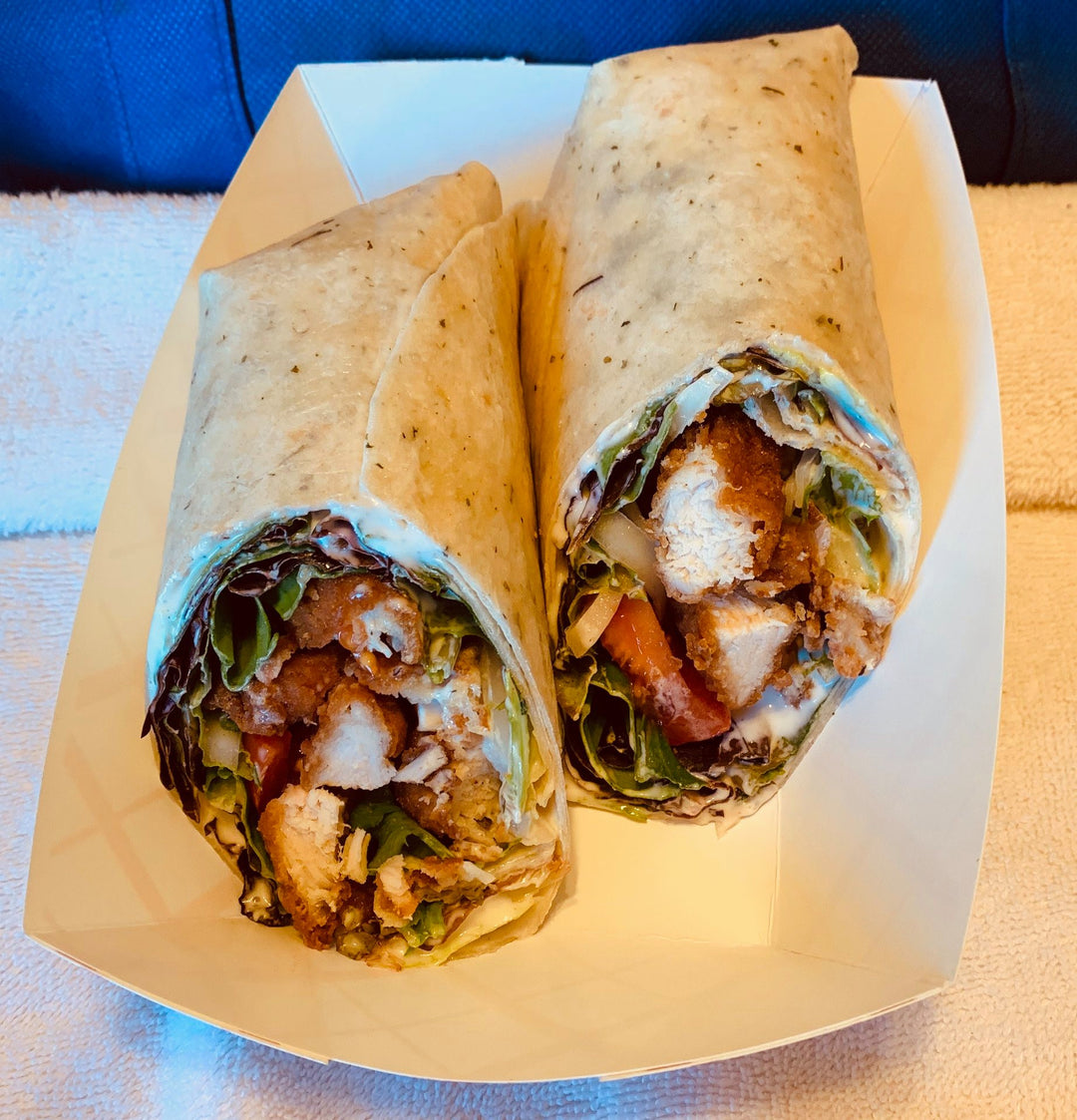 Food Trucks
Enjoy a variety of local food trucks to keep your belly happy while you explore our acres of free sunflowers!
Sweet Patch - Wraps, crepes, fruit bowls and so much more!
Dad's Famous Cold Brew - Delicious cold brewed coffees and teas, gourmet homemade ice pops and smoked candied pecans!
Redemption BBQ - bringing you the best BBQ in town! Smoked daily and deliciously juicy!
Italian Job Food Truck - serving mouth watering subs and sides.
Whistle Stop on Wheels - DESSERT!! Ice cream, sundaes and milkshakes.
Shuman's Concessions - Variety of sausages, Cheesesteaks, hamburgers, and pretzel braids.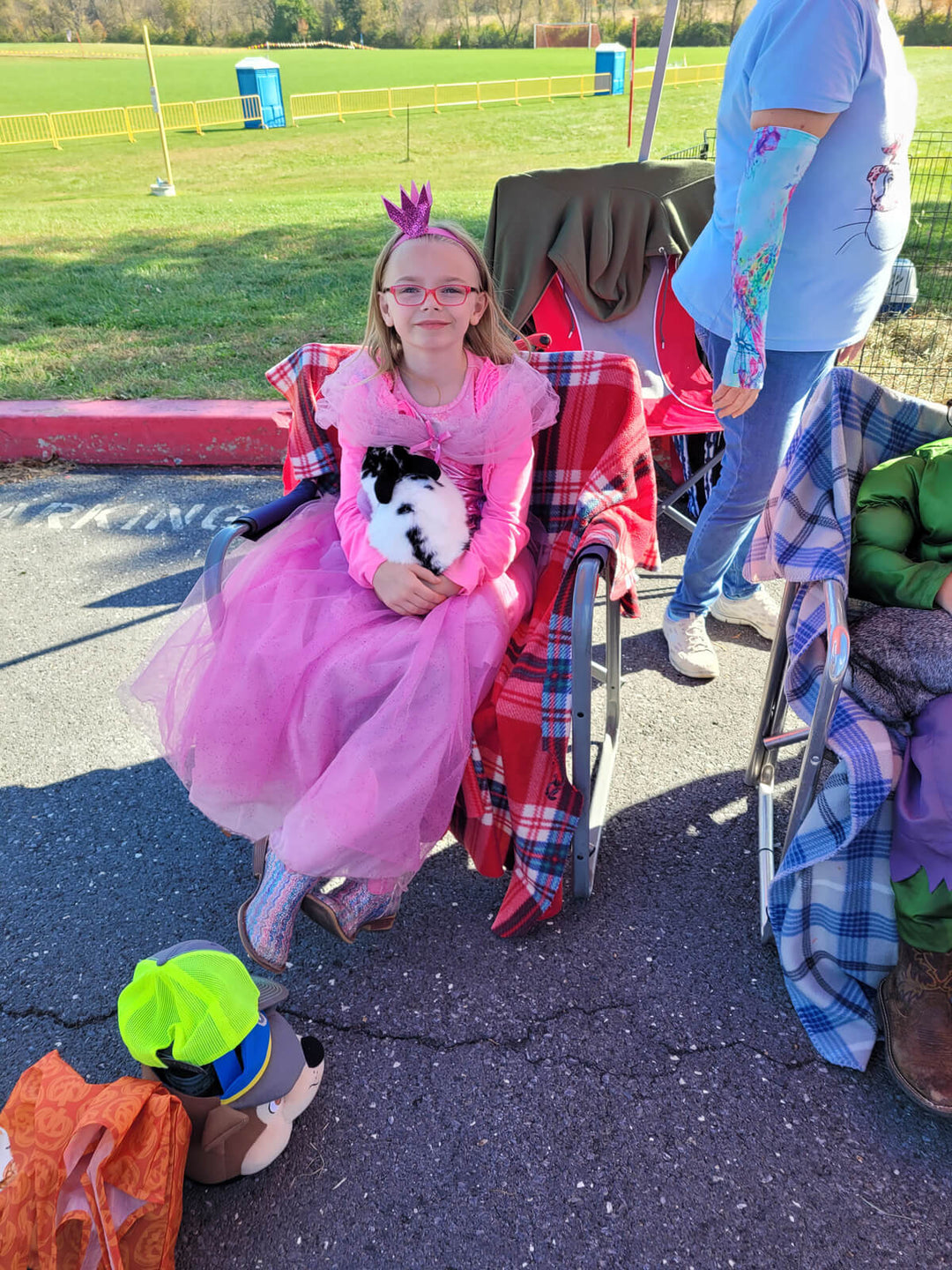 Bunny Petting
K&R Bunnies will be bringing their super soft bunnies for you to hold and pet each day from Noon until 4:00pm. Make sure to stop by and maybe you will learn a thing or two about bunny ownership.
Artisan vendors
Herbal Icing: Herb infused lip balm, lip gloss, lip scrub and lip accessories
Dark Fox Design: Wooden carved artwork and household items with resin.
Kalpana's Fine Soaps & Designs: Artisan soaps and Lampwork jewelry.
Gray Owl Candles Co.: Handmade luxury wooden wick candles, soaps, lotions and more. Everything is handmade from start to finish in Mechanicsburg, PA.
Plantscapes by Design: Unique succulent arrangements, planting workshop signups and planting activity.
Sweeter than SAP: Freshly baked cakes and pastries.
Cirque Du So Wreath: Unique, handmade wreaths for many occasions and seasons using high quality materials. Perfect addition to your decor!
Painted Spring Farm Alpacas: Farm raised yarns, hand knit and woven wearable items, socks, alpaca plush animals and homemade soaps.
Scott Higgins Charcoal: Charcoal portraits of animals and pop culture figures. Also, sells original art and prints.
Cindy's Craft 'N Stuff: Wooden country crafts, repurposed items, decorative pumpkins of all types and Fall decor.
Beauty Bee's Soaps: Handmade & all natural soap products, sourdough candles.
T&C Crafters: Handmade crochet and kit items including stuffed animals, home decor, gnomes, hats, scarves and season items.
Owlfeathers Watercolor: Original watercolor paintings sold as prints, cards, stickers, magnets, keychains and pins.
Deibler Family Adventures: Freeze dried foods - ice cream, cookie dough, candy, taffy, fruit, vegetables and more. Hand-crafted cotton candy.
Flowers of Blessings Shop: Specializes in stained glass and offers other floral related products.
Artful Things by Darcie: Hand dyed/painted wood flower arrangements, wall decor, magnets and ornaments using vintage and upcycled containers.
Jodi's Pottery: Pottery bowls, mugs, novelty dishes, spoon rests, vases and ornaments.
American Chainsaw Carvings by Curt: Chainsaw carved Halloween cats, pumpkins, snowmen, primitive snowmen, bears, owls and cardinals.
Rolling Acre Farm: CBD and CBG products.
YaYa's Barn Quilts & More: Geometric wooden designs made from lath wood.
Leah's Quilts & More: Quilts, bowl cozies, crayon bags, mixer covers, sunglass cases, adult and baby bibs, burp cloths and more handmade fabric items.
Stone Grove Pottery: Plant pots, spoon rests, incense holders, candle holders, trinket dishes, beads and jewelry.
Soaps by Survivors: handmade bath and beauty products supporting women escaping sexual exploitation and trafficking.
Beautiful Vision Designs: Custom tumblers.
Bitty Critters: Polymer clay animals, great for terrariums, fairy gardens, and pet memorials.
Magnolia Birch Design Co.: Sublimation keychains, earrings, tumblers, car coasters, stickers and shirts.
Toast & Co.: Handcrafted jewelry made with polymer clay.
Gem Oasis Studio: Handcrafted jewelry.
ElevenEleven Studio: Handmade items including tie-dyed apparel, landscape paintings and quilled paper art.
Jack & Joan's Kettlecorn: Kettle corn, Apple Slushies and Dill pickles.
Dawn's Daydreams: Specializes in shirts, wooden door signs, beer can glasses and so much more!
Crist Custom Designs: Ammo cans that are powder coated, laser engraved and painted. Spanish cedar humidors, coil blocks and lockable double pistol w/ 4 mag holder accessories.
Two Sisters' Mixers: Handcrafted, artisan style cocktail mixers. Each box includes a mixer, garnishes and recipes for at least 5 types of spirits.
PeriOpal: Unique novelty candles and bath bombs.
Revolutionary Hot Sauce: Hot sauces and pretzels.
C& T Coasters and Creations: Ceramic tile coasters and lit bottles.
Rock Run Animal Rescue: Baked goods, cat and dog items, dog treats, plants and magnets to support their non-profit animal rescue.
Speranza Animal Rescue: Selling Speranza merchandise and collecting bedding/food/treat donations.
Yes! Admission and parking are free!
Though pets are welcome on the farm on regular days, we ask that you keep your furry friends at home during our festival days as there are large crowds and rescued animals and bunnies on the farm on this day.
You can pick as many as you would like! Be sure to stop by our cutting stations to get some water for your new beautiful bouquets.
We do have clippers available for sale. We do not loan out clippers during Sunflower Season or at our festivals, so please bring your own or purchase some at our information tent or in our gift shop!
Yes! Our fields are open from dawn until dusk during Sunflower Season. You are welcome to use them for family photos. Please note that the fields will be very busy during our Sunflower Festival, so picking another day for photos may allow you to have more open fields with more options.
You do not have to register to pick sunflowers. You can enter the fields and start picking! We recommend bringing a pair of clippers or scissors along with you as you venture into our sunflower fields. You can also purchase clippers and vases at our information tent at the festival.