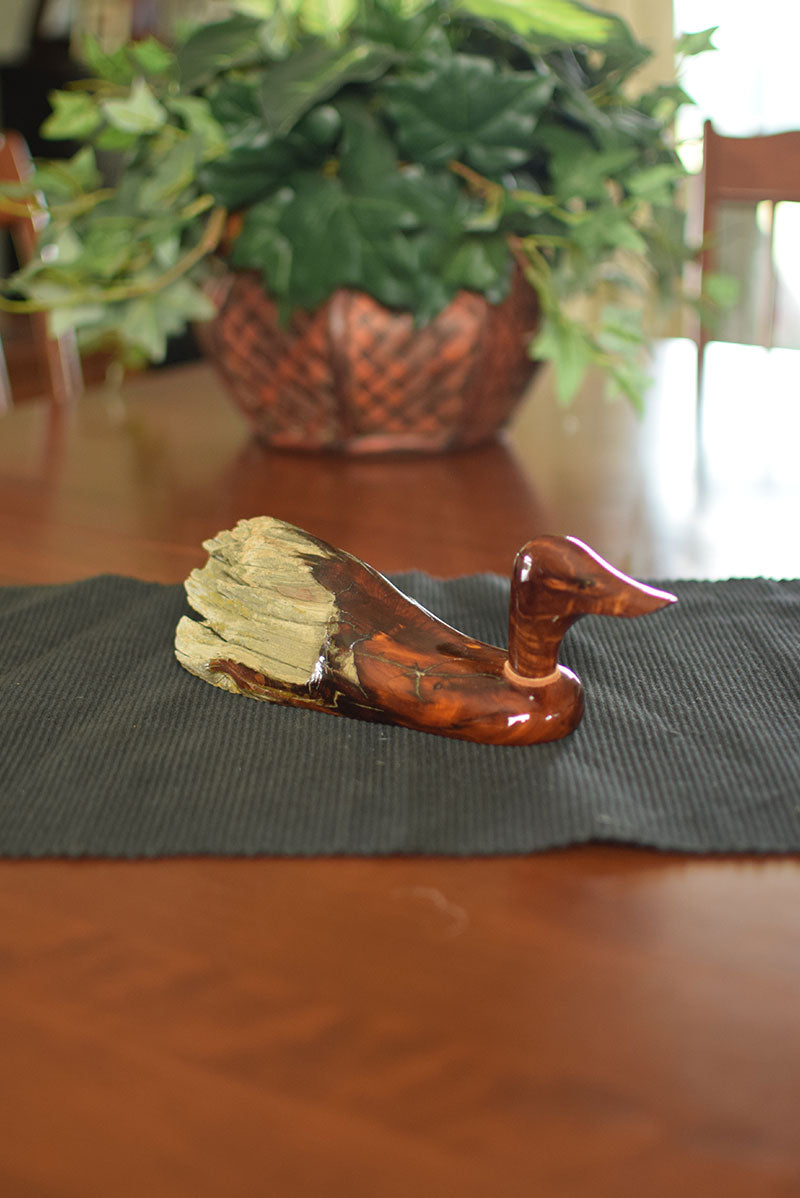 Rustic Mountain Creations - Medium Rustic Duck
DRD-M
---
This beautiful rustic wooden duck is approximately 9 1/2" - 11" in length, 4"-5 1/2" wide and 5" tall
Rocky Mountain Rustic, Colorado, Founded 1998
These creations began their journey over a hundred years ago as juniper fence posts, planted in the ranches and fields across the early American West. In 1998, woodworker Wayne Murray got the idea to create a duck out of this remarkable wood—both rustic and refined. Wayne created many ducks for his company called Busy Woods.
Tim Bergren came to know of his business over the years, with family members who knew the Murray's well, and heard they were looking for somebody to take over the business.
Tim had spent years as a liturgical designer and sculptor, doing large projects for churches across the country, but we'd been seeking something that was more small-scale and yet with larger opportunity. When he returned to the Flathead Valley for his annual summer vacation in 2012, he met up with the Murray's and began serious (and not-so-serious) conversations about taking over the business. Happily, Wayne and Kathy saw potential in Tim and agreed to sell him the business.
Tim personally selects the reclaimed fence posts from ranchers up and down the Rocky Mountains. He and his studio of skilled artisans create handcrafted, unique works of art that are a lovely addition to any home, den, office, or cabin. He has been growing the business and maintaining the standards that have been the hallmark of both Wayne's and Tim's craftsmanship. The company was renamed "Rocky Mountain Rustic" to reflect our business location and the regions from where Tim salvages the old posts. Tim, and Rocky Mountain Rustic continue to create the beautiful ducks for which we've become famous.  Each piece is a one of kind, unique piece.
Display your gourd where it isn't exposed to excessive moisture and avoid long periods of direct sunlight.
When storing your gourd, choose a cool, dark, and dry environment.
To clean your gourds, wipe them with a soft, dry cloth.
Light your gourd with electric lights (7 watt max) or battery-operated lights only. Never place a lit candle in a gourd because gourds are flammable.