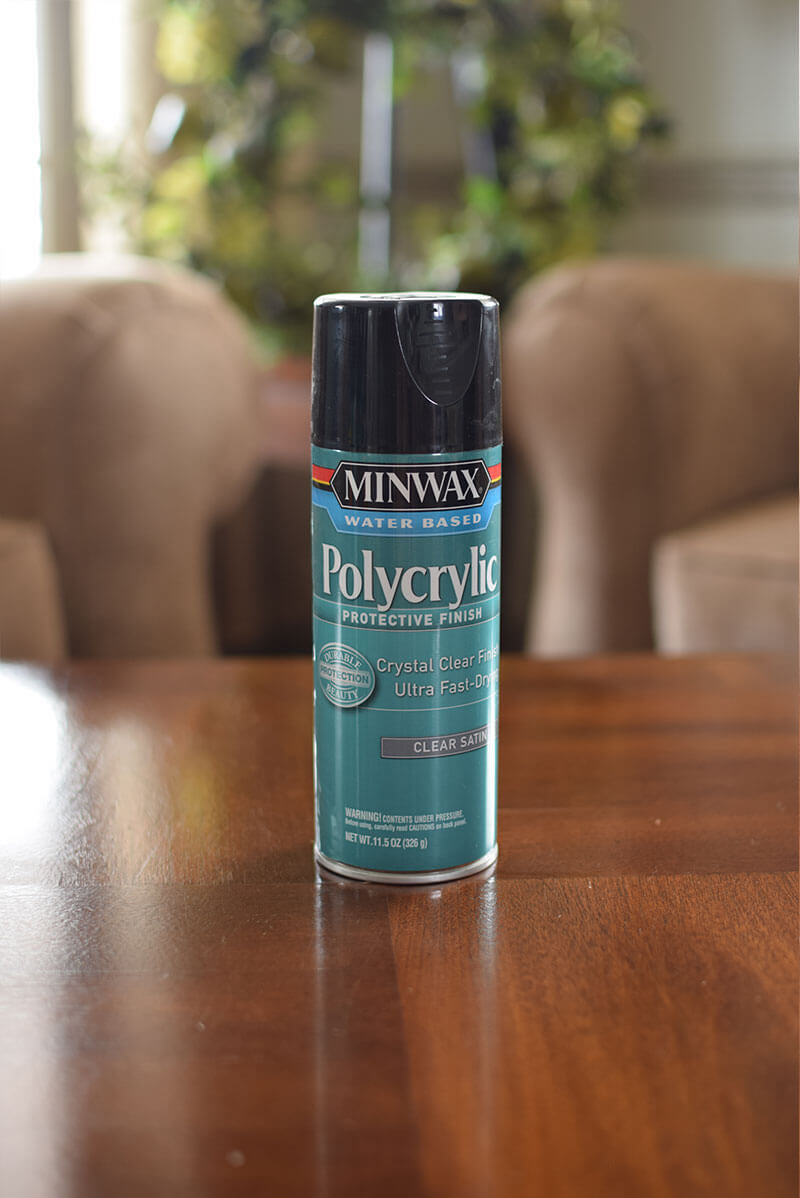 Polycrylic - Clear Satin
POLYCRYLIC-CLEAR SATIN
---
Minwax Polcrylic Protective Finish is a crystal clear, ultra fast-drying protective topcoat for use on interior wood surfaces including furniture, trim, doors and cabinets.  It has little odor and cleans up easily with soap and water. 
Polycrylic can be used over bare wood and both oil-based and water-based stains.  Polycrylic also resists damage from abrasion scuffing, chipping, water, alcohol and other common household chemicals 
The directions and other tips to use this Polycrylic are located on the can.  
CAUTIONS; CONTAINS DIMETHYL ETHER, 2-BUTOXYETHOANOL AND 2-PROPANOL,. WARNING! CONTENTS UNDER PERSSURE. Vapors will accumulate readily and may ignite explosively.  DO NOT SMOKE- Extinguish all flames, pilot lights and heaters.  Turn off stoves electric tools and appliances, and any other sources of ignition.  Avoid prolonged exposure to sunlight or heat form radiators, stoves, hot water and other heat sources that may cause bursting.  Do not puncture, incinerate, burn or store above 120 degrees Fahrenheit. Keep upright in a cool dry place.  Do not discard empty can in trash compactor.  Cause eye, skin, nose and throat irritation.  Use with adequate ventilation.  Avoid continuous breathing of vapor and spray mist.  If you experience eye watering, headaches or dizziness, increase fresh air or leave the area.  Avoid contact with eyes and skin.  Wash hands after using.  FIRST AID: In case of eye contact, flush thoroughly with large amounts of water for 15 minutes and get medical attention.  For skin contact wash thoroughly with soap and water.  In case of respiratory difficulty provide fresh air and call physician.  DELAYED EFFECTS FROM LONG-TERM OVER EXPOSURE: Contains solvents which can cause permanent brain and nervous system damage.  Intentional misuse by deliberately concentrating and inhaling the contents my be harmful or fatal.  WARNING: this product contains chemicals known to the State of California to cause cancer and birth defects or other reproductive harm. DO NOT TAKE INTERNALLY. KEEP OUT OF REACH OF CHILDREN. CONFORMS TO ASTM D4236.
Display your gourd where it isn't exposed to excessive moisture and avoid long periods of direct sunlight.
When storing your gourd, choose a cool, dark, and dry environment.
To clean your gourds, wipe them with a soft, dry cloth.
Light your gourd with electric lights (7 watt max) or battery-operated lights only. Never place a lit candle in a gourd because gourds are flammable.