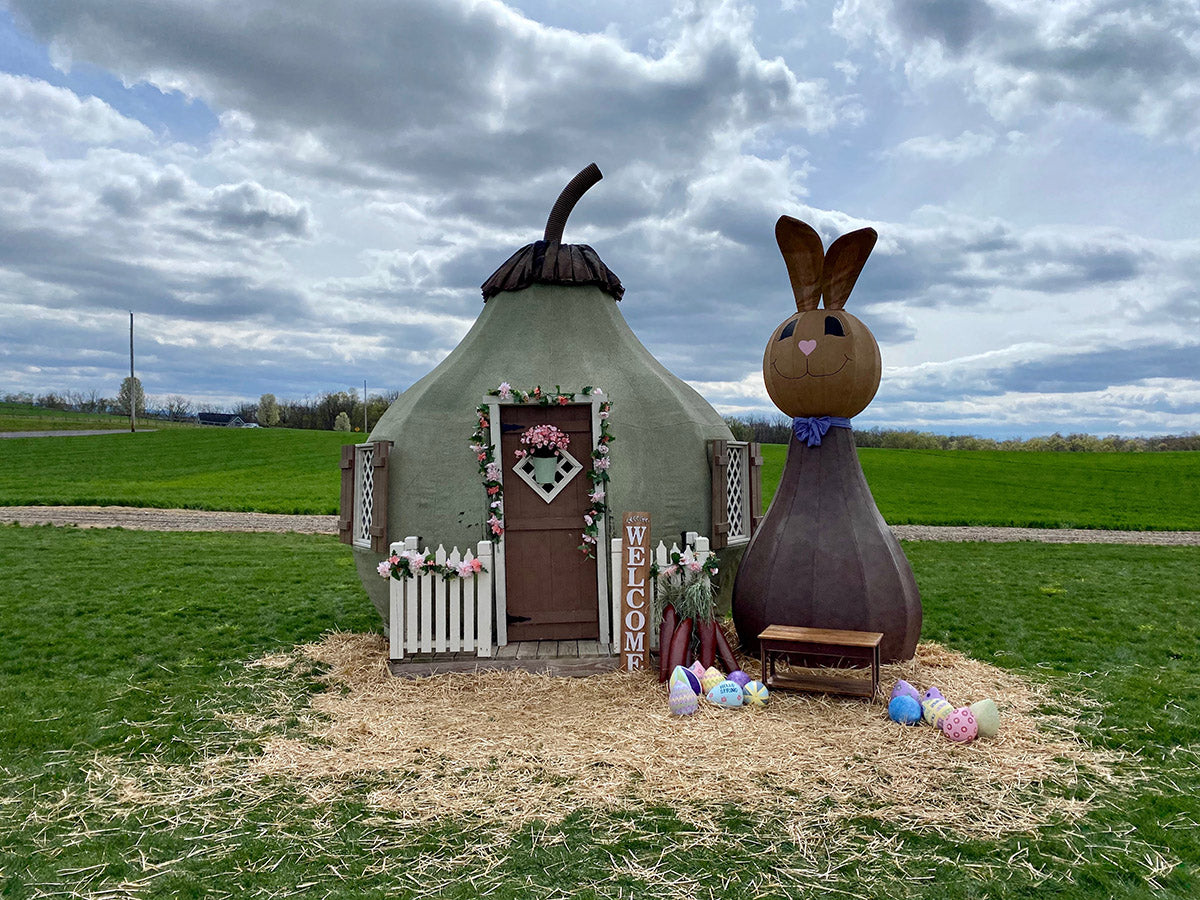 SPRING FESTIVAL RESCHEDULED
Attention Festival Visitors! The Spring Festival & Egg Hunt will be rescheduled to its rain date, April 22 from 10am - 4pm.
RAIN UPDATE:
We got two egg hunts in and just about to start the third, but the rain is approaching so we wanted to let you know that we will be shutting down the vendors and food trucks starting at 2:00pm. The store and Oops Sale will still be open until 4:00 and the Paint Your Own Birdhouse will be open until 3:00. We want to thank all of you that made it out today and look forward to all the events that will be coming up on the farm.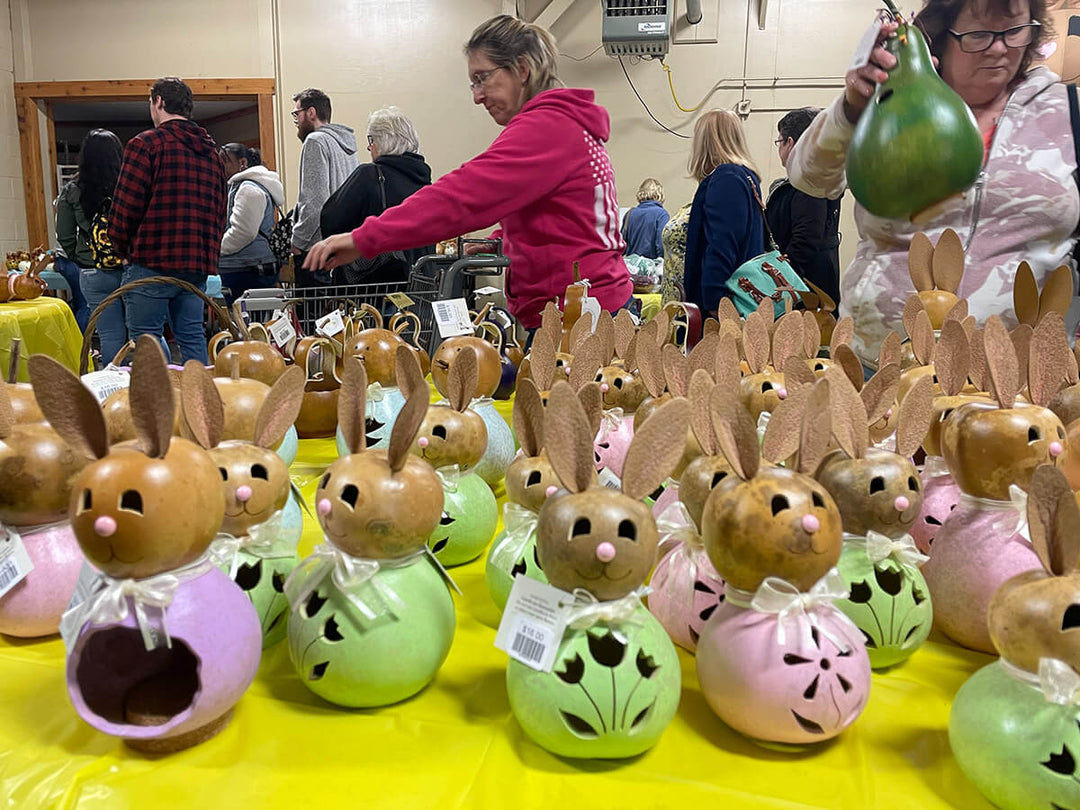 Spring Oops Sale
Get deep discounts on our Spring gourd designs during our Oops Sale! Find Spring gourds with minor blemishes or retired designs that are all on sale and looking for a home!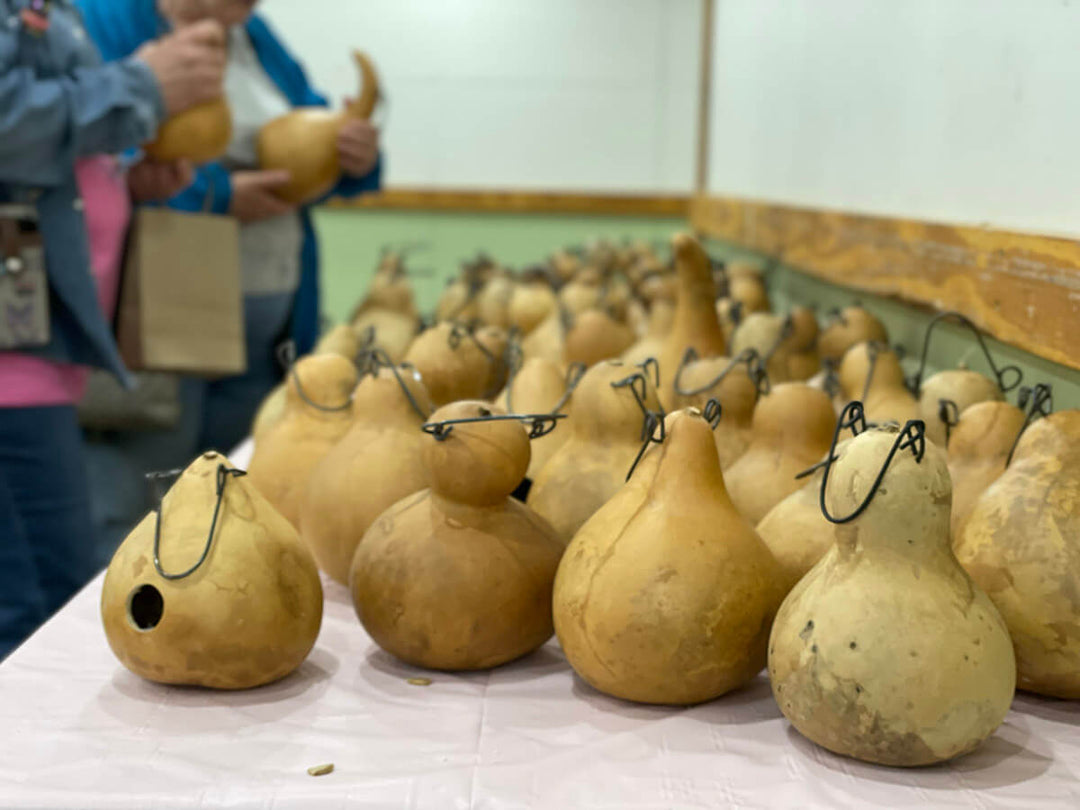 Paint Your Own Birdhouse Workshop
Make sure to make a trip inside the store to paint your own birdhouse for $10.00. This is a great activity for all ages and your backyard feathered friends will be so grateful as they start looking for a new home!
No registrations are needed. Last seating will be at 3:00pm.
Annual Gourd Egg Hunt
Registration Required. Register to find 5 dyed gourd Easter eggs in our winter wheat fields with the opportunity to find prize eggs worth up to $100!
Register Now
Food Trucks & Wine
Enjoy a variety of different styles of food trucks including The Sweet Patch, Redemption BBQ, Castlerigg Wine Shop, Jack & Joan's Kettle Corn, and more!
Upper Frankford Fire Company will be here serving up Chicken BBQ dinners.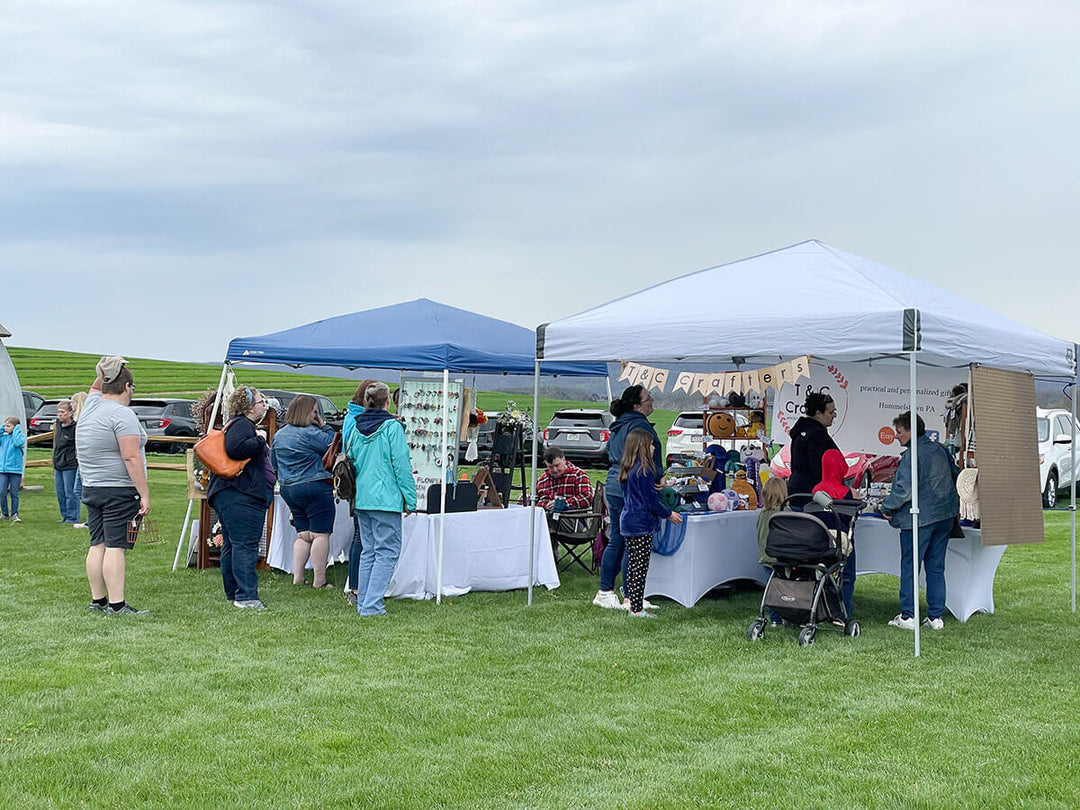 Artisan Craft Vendors
We will also have very talented artisans selling one of a kind pieces, home decor and more! Artisans are listed below.
Artisans Attending:
K & R Rabbit Farm - Bunny Petting Zoo
YaYa's Barn Quilts & More - Geometric wooden designs made from lath wood
Kapp Woodworking - Recycled/Upcycled wood boxes, barware, bowls, barn finds and backyard
Rolling Acre Farm - CBD/CBG products
Gray Owl Candle Co. - Handmade luxury wooden wick candles, soaps, and lotions.
Deibler Family Adventures - Freeze dried food and handcrafted cotton candy
Sugarlands - Custom flavored cupcakes
Flowers of Blessings Shop - specializing in stained glass and other floral related products
Leah's Quilts & More - Handmade fabric quilts, bowl cozies, toaster/mixer covers, crayon bags and more
Speranza Animal Rescue - Selling Speranza merchandise, collecting bedding/food/treat donations and having furry friends to meet
Rock Run Animal Rescue - Baked goods, plants, cat/dog items, and magnets
Jodi's Pottery - Pottery bowls, mugs, novelty dishes, spoon rest, vases and ornaments
K's Kountry Krafts - Hand designed/lasered wooden ornaments, earrings, shelves and handpainted pieces
Beauty Bee Soaps - Handmade all natural soap products and doughbowl candles
Plantscapes by Design - Unique succulent arrangements and planting workshop
Castlerigg Wine Shop - Selling and serving wine from Seven Mountsains Wine Cellars
Stone Grove Studio - Handmade stoneware pottery
Owl Feathers Watercolor - Original watercolor paintings sold as prings, cards, stickers, magnets, keychains and pins
Sweeter than SAP - Freshly baked cakes and pastries
T&C Crafters - Handmade crochet and knit items made into stuffed animals, home decor, hats, scarves and seasonal items
Readinger's Remedies - Handcrafted lip balm, herbal salves, essential oil items, dog and men items
Tough Scruff Essentials - All-natural handmade cologne, beard oil, beard balm and shampoos
Tin Box in the Woods - Handmade soy wax candles, bath products, screen printed items, wood decor, and eclectic mercantile
Harlie's Creations - Hand sewn and crocheted crafts and clothing
L Daddio Shutterbug - Photographer to do mini sessions (10 minutes) at the farm
Beiler's Designs - Hand sewn items
Jack & Joan's Kettlecorn - serving Kettlecorn, huge Dill pickles and apple cider slushies
Stone Grove Studios - Handmade stoneware pottery